First Rate Announces Market Centric Alignment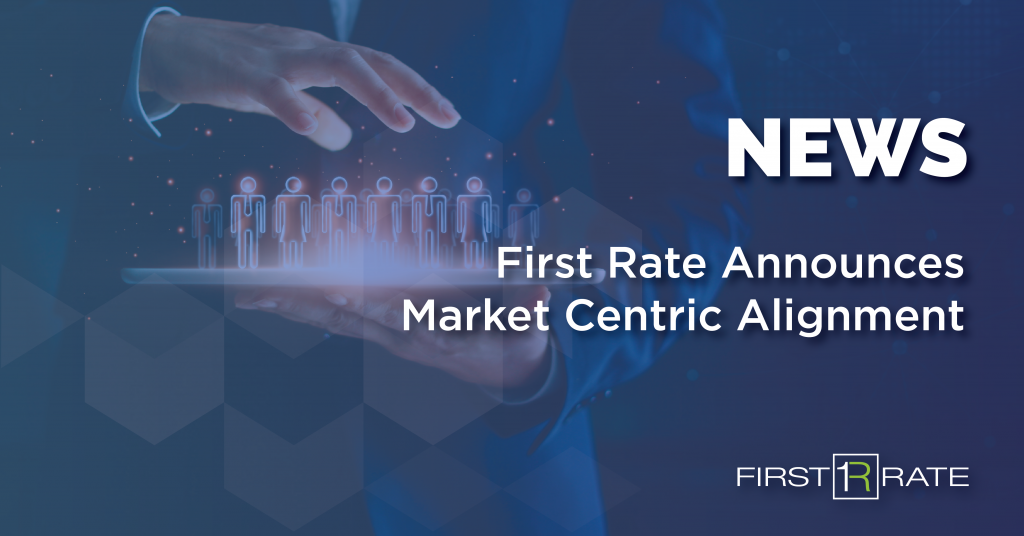 Responding to industry growth and strategic innovation, First Rate is implementing six strategic market focuses while also aligning six new executive management team members.
Arlington, TX – May 3, 2022 – First Rate, a leading provider of financial service solutions to the wealth management industry, today announced a corporate shift to be market aligned, focusing on individual markets including trust/bank (3), broker dealer, institutional and alternative asset management. The market alignment leads to a renewed focus on anticipating and addressing the unique needs in a singular focus with new executive leadership. This change will better position the company to achieve specific growth goals while also providing the continuity of strong leadership across all business lines.
"First Rate has been in business for thirty years, and there is a natural need to move forward to anticipate growth," said Craig Wietz, President of First Rate. "Strategically aligning our business lines to be market-driven allows us to build teams and service models that better support the utilization of our products while positioning greater value to our clients and prospects."
Market Announcements
Alex Serman, CIPM, has been named the managing director of the bank and trust market with more than $10b in assets under management. Since 2016, Serman has had pivotal client-facing roles in the wealth organization to help strengthen and maintain relationships and opportunities. In 2020, Serman received his Certificate in Investment Performance Measurement (CIPM, and in 2022 he achieved his CFA Institute Certification in ESG Investing. Read more here.
Jon Beadles, CFA, CIPM, has been named the managing director of the bank and trust market between $5b-10b in assets under management. Since 2008, Beadles has played a few roles within First Rate, including building a network of promoters in our client base and recently leading the community trust group. Beadles is highly regarded as an expert-level analyst and client relationship manager in the field of investment performance and maintains a CFA and CIPM designation. Read more here.
Rachel Guy has been named the managing director of the bank and trust market with less than $5B in assets under management. Since joining First Rate in 2013, Guy has been in many different client service roles where she has been responsible for post-sale services including implementations and renewals. Her experience with meeting client expectations and understanding their current and future needs has allowed her to strategically transition into the manager driving growth and strategic direction. Read more here.
Emily Traxler has been named managing director of the institutional group focusing on foundations/endowments, pensions, asset managers, registered investment advisors, and strategic partnerships in those respective markets. Since joining First Rate in 2010, Traxler has maneuvered mostly in the marketing and sales side of the organization, creating and redefining the business growth organization in 2020 and strategically implementing a market-centric sales approach prior to the corporate alignment model. As the institutional leader she is focused on the componentization of First Rate's tech stack to deliver each firm with a unique set of solutions and services. In 2022, Traxler was accepted into the elite Chief organization, a private membership network focused on connection and supporting women executive leaders. Read more here.
Rob Bethmann has been named managing director of the broker dealer group. As the 10th employee of First Rate in 1998, Bethmann has served in several roles within the organization, most recently serving as the general manager of professional services. Since late 2013, Bethmann has led a strategic effort to help support and build a sustainable service model in Hyderabad, India that will one day allow First Rate to operate on a 24/7 scale. Read more here.
Kate Baird has been named managing director of the alternative asset group. With more than three decades in the financial technology space, Baird is bringing her business acumen to her newly appointed position. After acquiring First Rate Vantage last year, the alternative asset space has become a big growth area for First Rate. Baird's longevity and experience leading and growing a business has made the transition to alternative investments a natural shift. Baird will provide strategic direction and executive leadership in the venture capital, private equity, and real estate market segments. Read more here.
Other Managing Director Announcements
As part of the new market shift, there are two other areas of the organization that will have a management adjustment including First Rate Global, previously run by Deborah Repak, and First Rate Professional Services, previously run by Rob Bethmann.
Grayson Greer has been named managing director of the global group. Since starting at First Rate in 2018, Greer has been pivotal to launching new solutions into the marketplace through our business development and marketing teams. In First Rate Global, Greer's primary focus will be around expanding brand positioning, creating lead generation, and bringing the First Rate solutions and culture into new market regions. First Rate solutions such as aggregation, investment performance, reporting, and analytics have helped create opportunities for serving wealth management firms around the globe. As part of this position, Greer will oversee First Rate offices in the United Kingdom and Singapore regions and manage the creation of new business lines outside of the domestic US market.
Nayan Madhamshettiwar, CPA, CFA, has been named managing director of the professional services group. With more than 15 years of experience serving in executive technology roles, Madhamshettiwar will oversee the development and deployment of the digital wealth management experiences and cutting-edge insights around First Rate's core services of investment performance, reporting, and data aggregation.
Check out our blog for more information relative to First Rate's market alignment, the newly appointed managing directors and what's next for Deborah Repak as she continues her journey at First Rate. Contact First Rate for more information.
About First Rate
First Rate exists to help wealth management companies grow and thrive as stewards of their clients' investments. Our reporting solutions help financial firms create absolute transparency while empowering investors to simplify and better understand their financial world.
Through First Rate's holistic view of engagement, we deliver adaptable and tailored solutions that sustain long-term relationships. With a proven track record including more than 25 years of experience, our relentless focus on meeting the diverse needs of our partners is unmatched in the industry.
We design the best technologies and foster superior client relationships, enabling our partners to prosper by providing similar successful – and enduring – relationships to investors. First Rate gives financial firms peace of mind by delivering consistent, accurate results that are designed to address the specific needs of their business – and their investors.
Website: www.FirstRate.com
Follow us: @FirstRatePerf